Georgia Peach and Arugula Salad
Simple salads with fresh, local ingredients have always been a favorite of mine. Often times it happens to be that I'm dining at a fresh Farm to Table restaurant or hitting up a Farmer's Market on Saturday morning and will order salad for my entrée, simply because I know how fresh it will be. This simple arugula salad with peaches, blueberries, pecans, red onion and my version of homemade vegan cheese is based on a lunch I attended a few weeks ago in the city. It was the tastiest salad I had all summer and really, the peaches were just perfect. The restaurant catering the event was South City Kitchen in Atlanta.
I'm looking forward to taking a cheese making class or acquiring a DYI cheese maker so that I make continue to experiment with vegan cheese making.
Top this salad with an easy vinaigrette and more pecans.
Georgia Peach & Arugula Salad
Vegan, gluten-free, peanut-free, soy-free, refined sugar-free
Serves: 2
Ingredients
5 cups mixed, fresh and clean arugula and baby spinach
2 Peaches (halved, pitted and grilled flesh side down for 2 minutes on medium on stove top grill pan)
1/2 cup fresh blueberries
1/2 pecans whole and pieces
2 tbsp red onion, thinly sliced
Vegan "buffalo mozzarella" – line a small four sided dish (like an old berry container) with cheesecloth. Pour 1/2 cup either coconut yogurt or coconut milk kefir (I used kefir) into the container and wrap cheesecloth around the yogurt. Press down to release any liquid or water. Place in freezer (5 minutes) or fridge to keep cool and take shape. Combine salad ingredients and cut the formed block of cheese on a cutting board.
Instructions
Layer salad as in photos and serve with dressing on the side.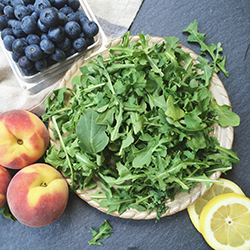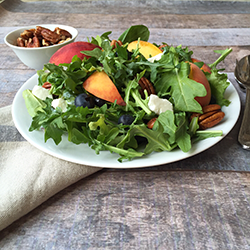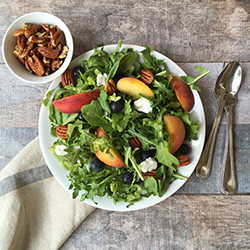 Easy Vinaigrette
1/4 cup dijon mustard of choice
1/4 cup rice vinegar
1/3 cup olive oil or avocado oil
1/2 shallot, thinly sliced
1 tsp fresh orange zest
2 tsp maple syrup
1/8 tsp sea salt and black pepper
Directions
Blend ingredients in Blender
Tags:
Arugula
,
Blueberries
,
Cheap
,
Cheese
,
Dairy Free
,
Dinner
,
Farm to Table
,
Gluten Free
,
Low Fat
,
Pecan
,
Quick & Easy
,
Recipe
,
Salad
,
Soy Free
,
Summer Salad
,
Vegan