Vegan Chili Topped Potato Skins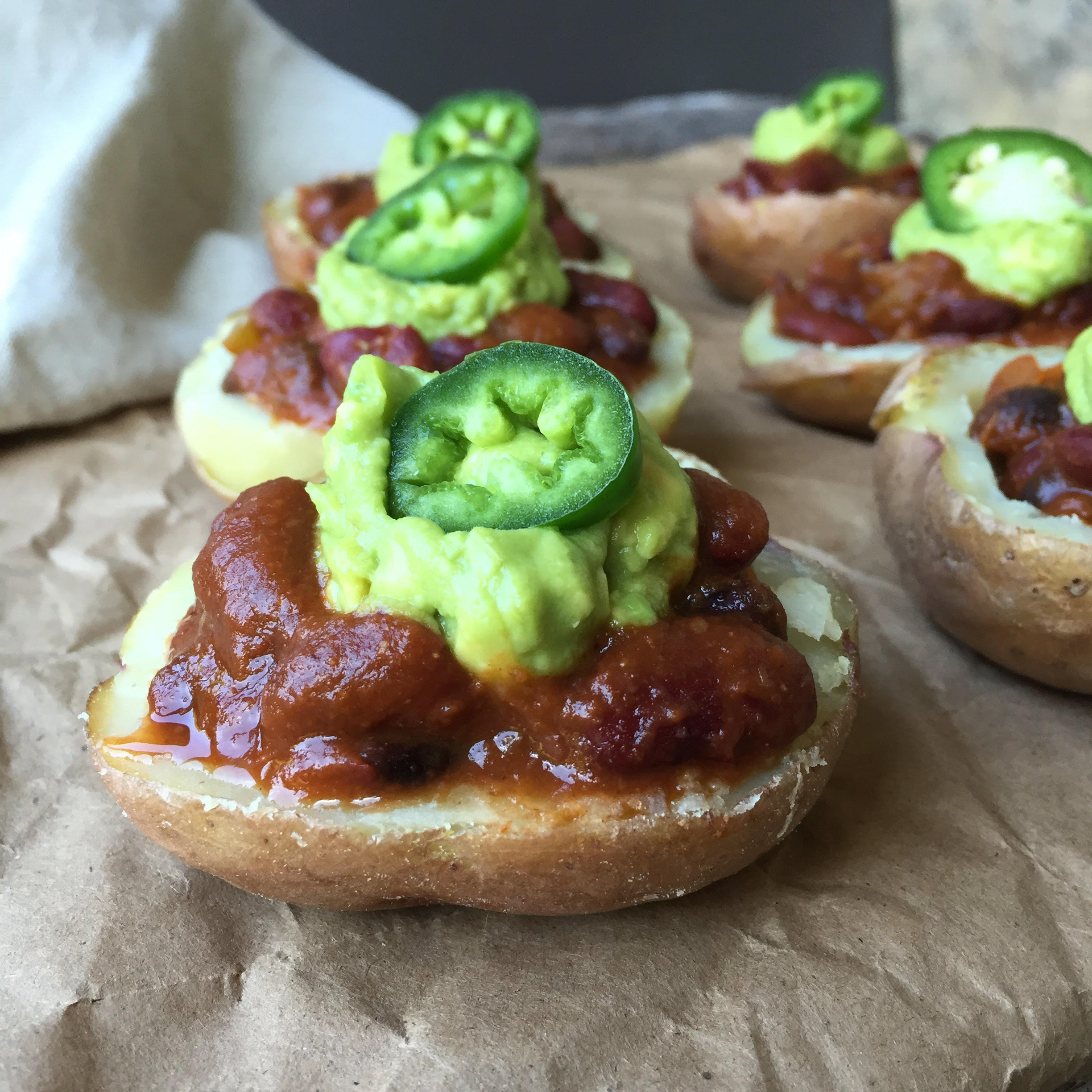 Are you ready for some football? No? Well, are you ready for some tailgating? I can't think of a better way to celebrate one of America's most loved sports and pastimes (tailgating) than with food. Healthy, easy and travel friendly food. I mean who should give up their results of gym-ratting all week just to spend the weekend eating junk? You won't find me in the gym because it's not my "thing" and more importantly the anxiety that I go through thinking about visiting a gym is enough to clear Whole Foods out of their organic chocolate and leave the shelves bare. So, I have to make up for my lack of fitness in the kitchen. I hear 90% of your workout is in the fridge anyways so if I can get this healthy tailgating to catch on I will save everyone the monthly gym memberships, right?
So, to me autumn means football, chili and reading a great book (preferably a cook book) during the big game.
Vegan Chili Topped Potato Skins
10 medium size red skin potatoes
1 teaspoon sea salt
2 medium size avocado
1 tablespoon fresh, chopped cilantro
1 lime, juiced
1 tablespoon olive oil
2 carrots
2 stalks of celery
1 small onion
1 fresh Jalapeño pepper (seeded) diced small
1/2 cup vegetable broth
1 teaspoon garlic salt
1 teaspoon onion powder
1 tablespoon chili powder
1 teaspoon cayenne powder
1 teaspoon cumin
½ teaspoon paprika
2 teaspoons coconut sugar
2 16 oz. cans of black beans
2 16 oz. cans of diced tomatoes
1 16 oz. cans of kidney beans
3 tablespoons of tomato paste
Instructions
Wash the potatoes and add to a pot of water with sea salt (water one inch over the potatoes) and bring to a low boil for 20-25 minutes until tender but not soft.
In a large 6 quart pot add oil over medium heat on stove
Add onion, carrots and celery and cook until tender and onions transparent
Add jalapeño, dry spices and sugar and cook for another 5 minutes
Rinse and drain the beans and add to pot along with the tomatoes, tomato paste and broth
Let simmer for one-two hours on low heat, covered with a lid.
Strain hot potatoes and rinse with cold water to cool off
Slice potatoes in half and place on a parchment lined baking sheet
Using a teaspoon scoop out potatoes leaving 1/4 inch buffer around the skin and place baking sheet in a 400*F oven for 10 minutes
In a medium size bowl combine avocados, cilantro and lime juice and mash well with a fork
Remove the potatoes from the oven and spoon chili into the hollows and top with the avocado sauce
Add a slice of jalapeño on top, if you like the extra heat
Store left over chili in container with lid in fridge for up to 4 days and freezer for 4 weeks