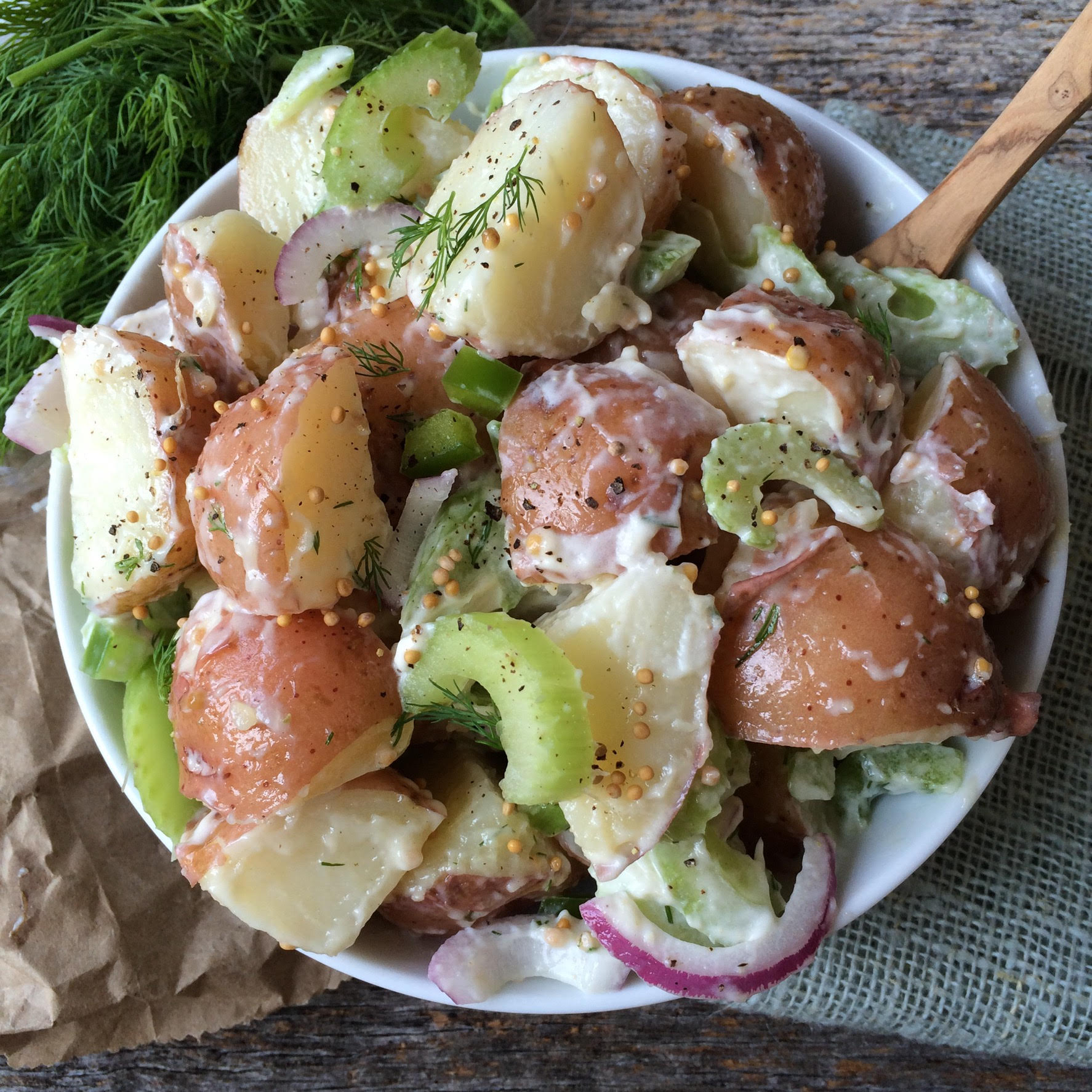 Who doesn't love a potato? As a child, I remember eating french fries for lunch, french fries for dinner…and french fries any other time I could get my hands on them. Bottom line…I loved those little night shades. I also have fond memories of my  sweet neighbor lady, Gladys, and her homemade potato salad. Her potato salad – along with her cucumber, pea and macaroni salads – were always displayed at her family grocery store, Denny's. Yes, there was a time when the pre-made deli selections were actually homemade. To this day, I credit my love for all deli foods and salads to her.
The potato salad from my childhood was sweet, tangy, yellow like the sun and flecked with some sort of seed. It was simply the best. Does anyone have the recipe for any of her salads? That exact question that comes up time and time again during our family bar-b-ques and the answer never changes. No! No one that we know has her recipes. But, after 20 years, I am finally okay losing those gems because I don't eat the bacon-filled potato salad and egg-filled macaroni salad anymore.
However, now that Hellmann's has come out with their new Carefully Crafted Dressing & Sandwich Spread, which contains no GMOs & is free from eggs and artificial flavors, this girl has had the perfect excuse to try her hand at making a new version of potato salad with folks over at TheFeedFeed. This version is fresh, savory and creamy with Hellmann's Carefully Crafted. This velvety dressing was exactly what I had been looking for and will continue to use to create  my recipes. As my son calls it, it truly is the "awesome sauce."
This article was created in partnership with Hellmann's (can you insert the website into the link —
http://www.hellmanns.com) and  FeedFeed – all opinions expressed are my own.