Healthy Chocolate Caramel Apple Nachos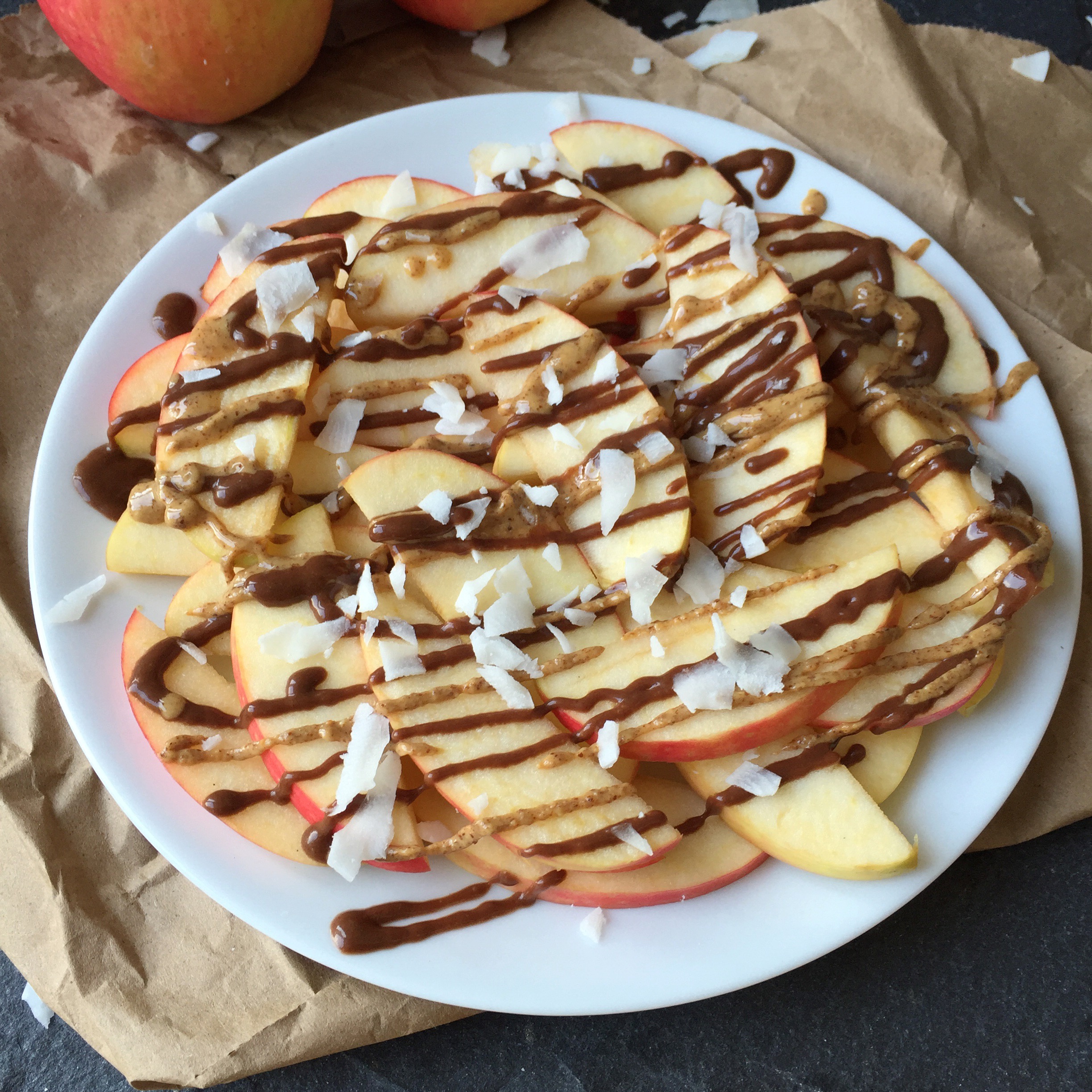 Rawchos? Raw nachos? Apple nachos? Nachos without cheese? Huh? My thoughts exactly until one year ago when I through together poorly sliced apples, sunflower seed butter and chocolate syrup. Which, I might add is a totally acceptable way to make apple nachos unless you really want to create a super healthy version that you can stash away in your virtual recipe "box" for years to come. The absolute best part of this recipe other the fact that they are nachos and you can eat them with your hands is the date caramel chocolate sauce or like my kids like to call it, awesome sauce.
This snack/breakfast/dessert is not only quick, easy and nutritious but is also something that I can serve for anyone. By simply subbing nut butter for sunflower seed butter it becomes allergy friendly for those who have nut allergies. We can talk about if someone cannot eat coconut or seed butters. Then, rice milk and tahini work great as substitutes. I have had to become really creative with ingredients over the past 8 years and while I'm super thankful that so many companies now make safe alternates. But creating recipes like these super rad nachos or rawchos has proven much more fun, healthy and rewarding for me and my children.
Healthy Chocolate Caramel Apple Nachos
4-5 red apples, thinly sliced
2 tablespoons sunflower seed or nut butter
3 soft, pitted dates
1/3 cup coconut milk
1 1/2 tablespoons mini chocolate chips
2 tablespoon shredded coconut (optional)
Instructions
Add coconut milk into a small sauce pan over low heat until warm and foamy on top
Remove milk from heat and add into blender along with the dates and chocolate chips, blend until smooth and shiny
Stir the sunflower seed or nut butter until smooth
Slice the apples into 1/4 inch slices and arrange on plate
Using a spoon, drizzle the sunflower seed or nut butter and caramel chocolate sauce over the apples and top with shredded coconut, if desired
Tags:
Dairy Free
,
FRESH
,
GLUTENFREE
,
Local
,
Nut Free
,
Paleo
,
PEANUTFREE
,
QUICK
,
Smoothie
,
Sugarfree
,
Vegan
,
Vegan Desserts
,
Vegetarian