Rustic Veggie Pizza
Serving size: 2-12 inch pizzas
I have tried many pizza dough recipes and I still go back to this'Amazing Whole Wheat Pizza Crust' which I found through Angela @ohsheglows. I made my own adjustments to make it refined sugar-free and more rustic tasting.
Crust Ingredients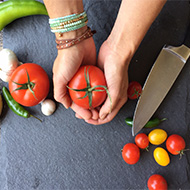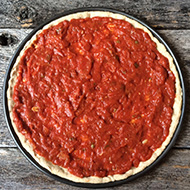 Crust Instructions
In a large bowl, dissolve 1 teaspoon of coconut sugar in 1 and 1/2 cups very warm water. Stir until dissolved
Add 1 tablespoon dry active yeast on top of the sugar-water mixture and let sit for 8-10 minutes covered with a kitchen towel
Add 1 tablespoon olive oil into the mix and stir while slowly adding both 2 cups whole wheat flour and the all-purpose flour until the mix begins to form a dough
Turn the dough mixture onto a counter surface covered with 1/2 cup whole wheat flour
Kneed the dough by hand for 5-10 minutes. Until it begins start to come together and form a large ball.
Rub the ball of dough with a small amount of oil to prevent sticking and place in a bowl. Cover with saran wrap for 1 hour to rise.
After one hour, uncover the dough and punch out the air with your fist
Return the dough to the bowl and cover for an additional 45 minutes for a second rise
Sauce: The sauce is one that I have used for over a decade and first made it with my younger sister. You can find it here Homemade Pizza Sauce
Toppings (enough for two pizzas):
4 cups fresh, rinsed and dried spinach
2 cups mixed cherry and grape tomatoes, sliced
2 medium zucchini squash, sliced 1/4 thick
1/2 red onion, sliced thin
1 cup mixed, pitted olives
2 cups fresh mushrooms, sliced (wipe them off with a damp towel before slicing)
Pizza Assembly Instructions:
Place two racks in the center of the oven
Preheat oven to 425 F (218 C)
Divide the dough into two circles (or freeze one for use later) one per pizza which will make a thin pizza with a slight crust
For each ball of dough, lightly dust the counter with flour, roll into shape and thin to 1/4 thick. Place each of the shaped pizza dough into a 12 inch non stick pizza pan
Top each pan of dough with 2 cups of sauce and ingredients
Bake in a 425*F oven for 18-20 minutes, check at 18 minutes
Cut each pizza into 8 slices
*If looking for a gluten free crust, the best I have tried and made for my family and friends is the Bob's Red Mill Gluten Free Pizza Crust Mix. The package contains an extra packet and lists instructions for vegan dough as well.