Spicy Hummus and Quinoa Lettuce Cups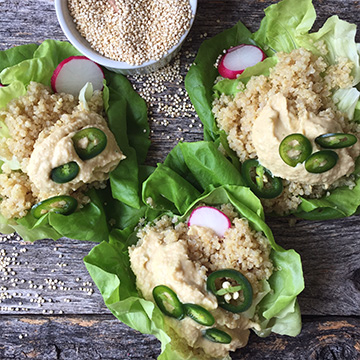 When your girlfriend who you haven't seen in a minute sends a photo via text of her backyard garden bounty with the caption, "Would you like any of these?"And the "these" are fresh jalapeños, tomatoes and lettuce you cant help but say, yes! Honestly, I will always be more excited to spend more time with her but all the better when she wants to share the fruits of her labor. We all need friends like that, friends who know what we love and what we will appreciate.
A large brown bag held 7 beautiful jalapeño peppers and a plastic bag with ripe and warmed by the sun tomatoes and lettuce. My hubster is a pepper addict, spice lover and heat seeker so I instantly handed the brown bag to him and he started in on them like candy. No thanks! I asked her what she made with them and she listed off many great ideas then said she sometimes puts them in hummus. Of course, you can omit the jalapeños from the recipe below and use a more mild pepper like a serrano or green bell pepper but I think you should go with the roasted jalapeño pepper hummus. The lettuce cups are a great balance of low carb, high fiber and high protein. Perfect for lunch time.
Spicy Hummus and Quinoa Lettuce Cups
Dairy-free, gluten-free, nut-free, soy-free, refined sugar-free
Servings: 4
Ingredients
1 head bibb lettuce (or iceberg)
2 cups cooked quinoa
1 – 15 ounce can chickpeas, drained
2 small jalapeños (1 for hummus, 1 for garnish)
2 tbsp tahini (nut butter or seed butter if you prefer)
1 clove garlic, peeled
1 tbsp lemon zest
1 juice of a whole lemon
1 tsp paprika
1 tsp ground cumin
1 1/2 tsp garlic salt
1/4-1/3 cup water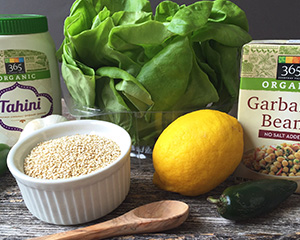 Instructions
Cook quinoa according to directions on the package to yield 2 cups cooked
Wash and dry lettuce and jalapeño peppers
Place whole peppers on top of open flame on gas stove turning until all sides are dark brown and blistered (or roast in 400F oven for 20 minutes turning after 10 minutes)
After jalapeños have roasted and are cool remove the stems and seed membrane, discard
Roughly chop garlic, one jalapeño and add to food processor with the chickpeas, tahini, spices, salt, spices and garlic salt
Pulse until mixed then add water and blend until smooth
Assemble lettuce cups with quinoa and top with hummus and jalapeño slices, if desired
Tags:
Gluten Free
,
Hummus
,
Lettuce Wrap
,
Low Carb
,
Lunch
,
Paleo
,
Plantbased
,
Quinoa
,
Spicy
,
Vegan
,
Veggies