Spicy Queso Balanced Bowls
If you visit and stay for dinner which I would love it is highly probable that you will have something in a bowl. In some form or fashion balanced bowls frequently make their way to our dinner table. Could it be that they are chalk full of protein, vitamins and minerals or that they are so fun to eat. I say D – all of the above! These bowls go by many names balanced bowls, buddha bowls, pixie bowls, veggie bowls, rainbow bowls and my favorite as named by my daughter, unicorn food.
The roasted sweet potato, sautéed kale, red onion, tomatoes, portobello caps and bell peppers on top a cup of cooked quinoa which is a great source of fiber and protein AND so low on the glycemic index. Typically, I top balanced bowls with some sort of tahini sauce variation but this time I thought lets mix it up with something "cheezy".
Spicy Queso Balanced Bowls
Dairy-free, gluten-free, nut-free, soy-free, refined sugar-free
Servings: 4
Bowl Ingredients
1 1/2 cups quinoa (will yield 3 cups cooked)
2 medium sweet potatoes
1 head curly leaf kale
2 cups portobello mushroom caps, diced
1/2 red bell pepper, cut into 1/2 inch slices
1/2 yellow bell pepper, cut into 1/2 inch slices
1/2 red onion, cut into 1 inch pieces
1 tsp sea salt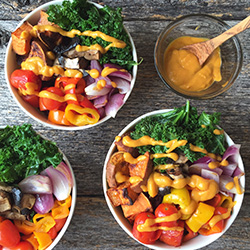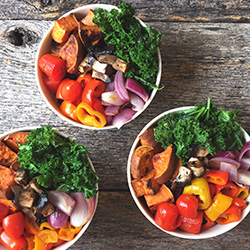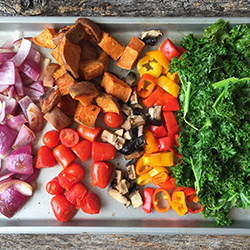 Bowl Instructions
Thoroughly wash the potatoes, cut into 1 inch cubes, sprinkle with sea salt and place on a parchment paper lined baking sheet
Roast in a 400*F oven for 30 minutes
Cook quinoa according to package instructions
While the sweet potatoes and quinoa cook add 2 tbsp water, avocado oil or olive oil to a large non stick pan and heat to medium
Add the red onion, bell peppers, mushrooms, kale and tomatoes to the pan
Lightly steam/saute the vegetables while keeping them separated and cover with a lid for 4-5 minutes to lightly cook
Remove pan from heat and cover to keep warm
Fluff quinoa with a fork and divide between bowls
Top with warm vegetables and Spicy Queso Cheeze sauce — Recipe Below
Spicy "Queso" Cheeze
Ingredients
1 medium sweet potato wrapped in foil and baked at 400*F for 40 minutes (place in oven to cook with the cubed sweet potatoes)
1 tbsp Sriracha sauce
1/4 cup unsweetened plant milk
Instructions
Allow potato to cool, slightly and slice potato in half and remove skin
Add ingredients to blender and blend until smooth and creamy adding more milk if needed