Veggie Fajita Salad with Spicy Avocado & Lime Dressing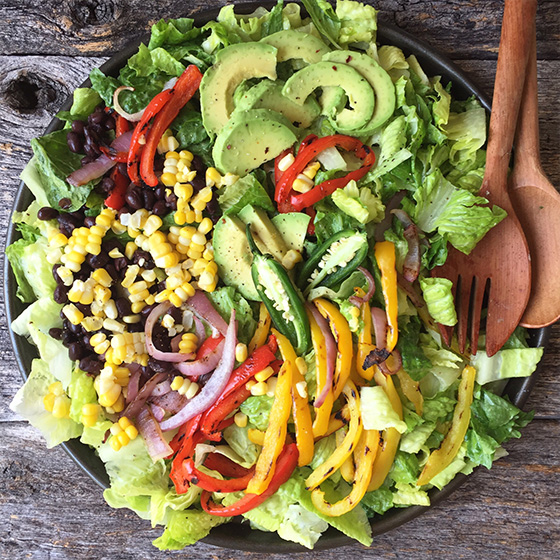 We love Mexican food in our home and as my daughter would say, "like literally" we could eat it everyday. And when we tell people that Mexican food is our favorite and we are always creating Mexican dishes and dining at Mexican restos we all agree that Mexican food is the BEST! Inevitably, we will talk about our favorite dishes and I will hear Carne' Asada, Chicken Enchiladas and children almost always say queso. Those are all fine and I love hearing all of the amazing dishes. Then, it comes to me and I agree that just about every Mexican dish is amazing and begin to share the plant-based lifestyle that I follow and explain how I make all of the very same dishes just without the meat and cheese. "Really?", they say. And the door opens for me to share about this amazing, feel good, good for you and the environment lifestyle.
For anyone who follows me on social media (Facebook, Instagram, Tumblr, Bloglovin') you know one of my favorite things to do is peep some Paleo and Standard American Diet pages and see what they have got going on, look for some new inspiration that I can totally overhaul and make plant-based. This Veggie Fajita Salad with Spicy Avocado Lime Dressing is just that. I saw a photo of chicken fajitas and couldn't wait recreate them and turn plant-based. Turn this salad into an even bigger crowd pleaser and serve with warm corn tortillas.
Veggie Fajita Salad
Dairy-free, gluten-free, nut-free, soy-free, refined sugar-free
Servings: 4
Salad Ingredients
2 heads romaine lettuce, chopped
1 red bell pepper, thinly sliced
1 yellow bell pepper, thinly sliced
1 red onion, thinly sliced
1 ear corn on the cob
1 cup cooked black beans
1 avocado, peeled and sliced
Salad Directions
Wash, drain and chop romaine lettuce
Remove the husk from corn, break in half and place in a pot of water and cover with a lid. The corn is done when water boils.
Add black beans to a small pot and gently bring to a simmer. Cover and remove from heat.
Wash, slice and discard seed pod from the bell peppers
Thinly slice the red onion
Place a grill pan over medium heat for 2 minutes to heat up then add sliced peppers and onion
Grill for 2 minutes on each side and transfer to a plate
Using a serrated knife, remove corn kernels from the cob
Toss the lettuce with dressing (recipe below) an assemble salad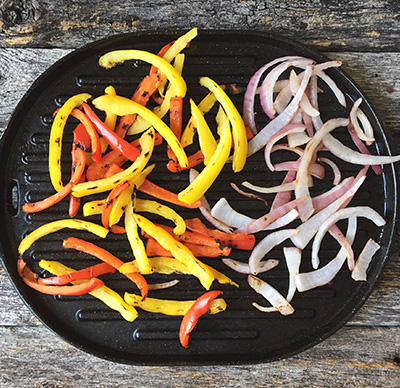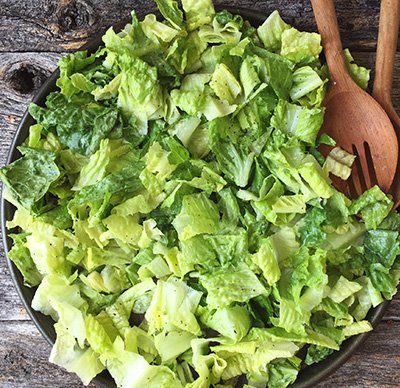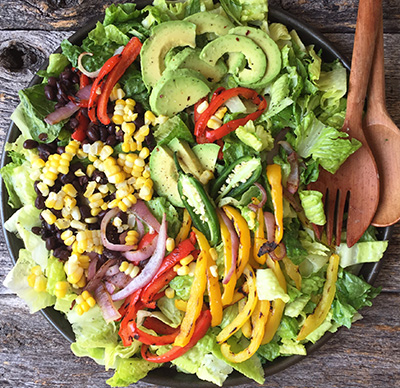 Dressing Ingredients
Directions
Place all ingredients in a blender and blend until thin and runny. Add more water, if needed
Using hands, toss with lettuce to fully coat each leaf
Tags:
Avocado
,
Fajita Salad
,
Fajitas
,
Fiber
,
Gluten Free
,
Lunch
,
Mexican
,
Paleo
,
Raw Food
,
Refined Sugar Free
,
Salad
,
Seasonal
,
Spinach
,
Superfoods
,
Vegan