Raspberry Orange Dreamsicle Smoothie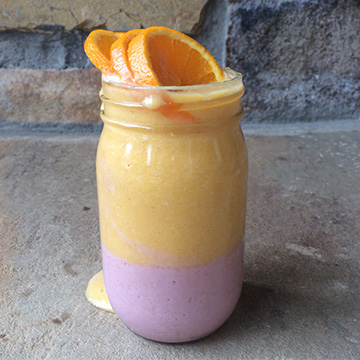 Citrus in a smoothie! Really? I had to give this one a shot . After all, I have a serious orange loving little fruit bat in my house. Not to mention so many of my friends on Facebook and Instagram have been telling me how the sweet and tangy addition of the oranges really make for an amazing smoothie. Also, that smoothies are not meant for just bananas and berries. This Raspberry Orange Dreamsicle Smoothie is inspired by many, especially my daughter.
This combo reminds me of a cross between an orange soda, ice cream float and a Flinstones orange push-up pop. If those two ideas alone don't take you back to the 80's I'm not sure what other food item will, except for a TV Dinner.
Raspberry Orange Dreamsicle Smoothie
Servings: Approximately 14 ounces
Ingredients
8 fresh raspberries
1/2 cup coconut yogurt
3 ripe naval oranges
1/2 cup vanilla hemp milk
1/2 cup water
1 small piece of carrot
1 tbsp shelled hemp seeds
Directions
Add the raspberries and yogurt in a blender
Blend for 30 seconds
Spoon the mixture into a 16 ounce mason jar and put in the fridge to keep cool
Don't rinse out the blender and add the remaining ingredients
Blend for 30 seconds
Spoon the mixture, slowly on top of the raspberry mixture
Add a few thin orange slices